"Heartburn Relief – DigestShield® Is The #1 Natural Solution"
Heartburn Relief – All Natural Solution
 Choose Antacid with Side Effects or choose DigestShield®
|   | Prevacid | Pepcid | Nexium | Zantac | Prilosec | DigestSheid® |
| --- | --- | --- | --- | --- | --- | --- |
| Gas, Bloating or Stomach Pain | x | x | x | x | x |   |
| Nausea, Vomiting, Diarrhea or Constipation | x | x | x | x | x |   |
| Muscle weakness, pain or twitching | x | x | x | x | x |   |
| Headache or Migraine | x | x | x | x | x |   |
| Dizziness, Confusion or Seizure | x | x | x | x | x |   |
| Fast or Uneven Heart Rate | x | x | x | x | x |   |
| Feeling Jittery | x | x | x | x | x |   |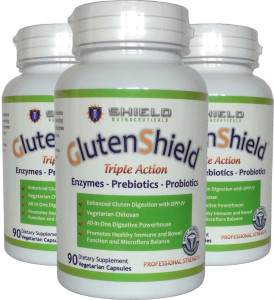 Over-the-counter antacid medications have been linked to higher rates of infection, vitamin B12 deficiency and weaker bones in people who take them regularly. Unlike these drugs, DigestShield® works to provide relief from heartburn without any unwanted and dangerous side effects.
This revolutionary new Co-Probiotic is a combination of enzymes, prebiotics, probiotics and vegetarian chitosan addresses the common causes of heartburn by breaking down gluten, dairy, and other problem foods while re-tuning the gut with beneficial bacteria.
We are so certain that you will love how you feel after taking DigestShield®, we offer a risk-free, no-questions-asked, 100% Money-Back Guarantee! 
GlutenShield®
Average rating:
0 reviews