DigestShield® - all in one capsule
DIGESTIVE ENZYMES

PREBIOTICS

PROBIOTICS
Our ingredients are designed to improve digestion and give protection from the effects of eating foods such as gluten (wheat), dairy, soy, and beans. It is the only digestive aid in the world with  Chitosan. 
DigestShield® was created by doctors and tested for two years at Performance Medicine clinics.
We absolutely guarantee you will be happy with DigestShield® or your money back.
We offer free shipping on all orders. Try DigestShield® risk-free today.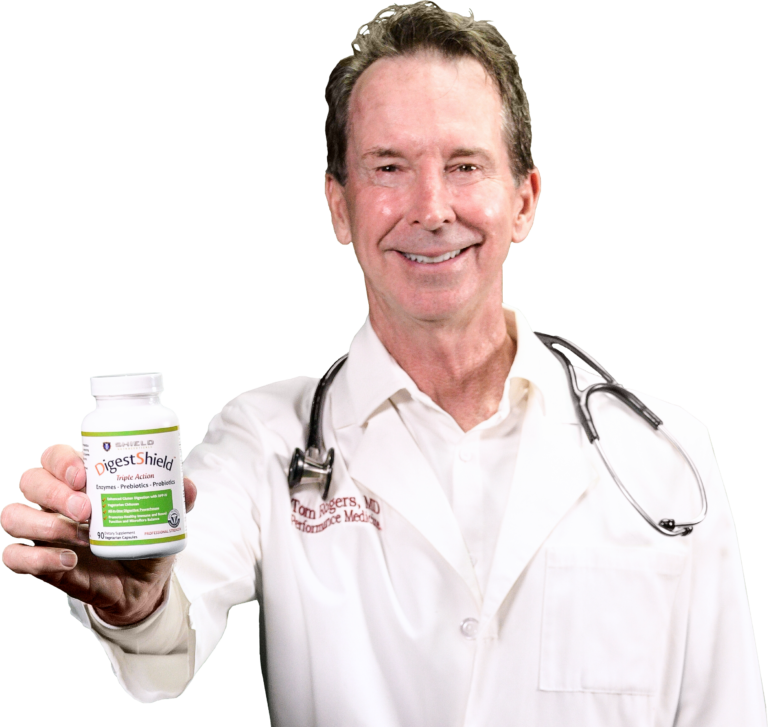 DigestShield® is the best over-the-counter digestive aid I have ever used.​
Dr. Tom Rogers, founder of Performance Medicine, is Fellowship Trained and Board Certified in Integrative Medicine, and Board Certified in Sports Medicine from the American Academy of Anti-Aging (A4M). He earned his MD from East Tennessee State University Quillen College of Medicine and completed his residency at the University of South Carolina.
As part of his diagnosis protocol, Dr. Rogers asks his patients, "How is your gut?" The reason is, a healthy gut contributes to the effectiveness of the immune system, heart, and other organ functions, improved digestion, and may help reduce incidences of several diseases and autoimmune disorders. Improving the gut microbiome is essential for patients to get maximum results from the rest of his protocols. Dr. Rogers prescribes DigestShield® to achieve that.
"
My digestive system was sluggish and also had issues occasionally with reflux..been taking digest shield once/day for about 6 weeks and can see improvement with both issues…had tried a couple other brands of probiotics and they didnt agree with me..had nausea with both..no side effects with digest shield..I like that there is prebiotics, probiotics and digestive enzymes in one product.
Sharon Vermillion
"
I have struggled with acid reflux from time to time. It's not fun trying to figure out what foods trigger it. I started using DigestShield recently and not only is there no acid reflux after I eat, I can eat some of my favorite foods again! Feel like I'm dropping some pounds with it too! Thanks so much for a product that works!
Anna Laws