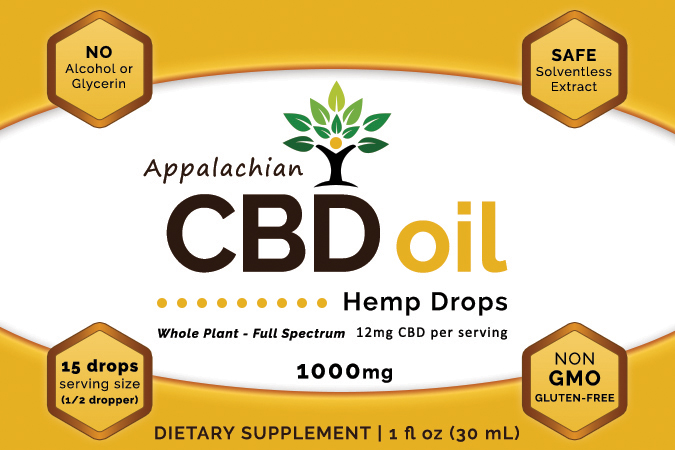 Appalachian CBD Oil is derived from hemp that is grown in the Southern Appalachian region of the U.S.
We have met with the farmers who grow the hemp, have gone to the fields, harvested the hemp, dried and cured it and then pressed the flower to create solventless, whole plant extract, from which we create the oil. It is a time-consuming but clean and safe method for creating our full-spectrum oil. We use it as a dietary supplement and rub it on our body or put drops under our tongue.
If you decide to try CBD oil, talk with your doctor — if for no other reason than to make sure it won't affect other medications you are taking.
No claims can be made about the efficacy of CBD so it is up to the individual to decide if hemp oil is right for them.
ANXIETY + STRESS
Research has shown that CBD may boost signaling through serotonin receptors.
SLEEP
Studies show that CBD affects many bodily functions, including the sleep-wake cycle.
PAIN
CB2 receptors are well known for their ability to modulate inflammation.
INGREDIENTS
Phytocannabinoid-Rich Hemp Oil, Medium Chain Triglycerides (MCT) Oil
Ordering is Simple and Old School
Remember when you used to order everything through the mail? We are back to this time-honored method. Simply fill out the order form and send in a check or money order for $59 plus $4.95 to cover Shipping & Handling ($63.95 total) to:
Shield Nutraceuticals
801 Forest Ave.
Johnson City, TN 37601
We offer a 30-Day Money Back Double Guarantee.
First, we guarantee the purity of Appalachian CBD Oil and to be free from any solvents, pesticides, heavy metals or mycotoxins.
Second, if after trying Appalachian CBD Oil, you are not satisfied with the results, simply return the unused portion for a full refund minus shipping.